This is an archived article and the information in the article may be outdated. Please look at the time stamp on the story to see when it was last updated.
MEMPHIS, Tenn. —  The men involved in a multi-state chase following a drive-by shooting in Memphis have been identified and two of them are now sitting behind bars in the Shelby County jail.
Memphis police identified the suspects as Tadarious Tucker, Tyrone Turner, Demetre Hall, Eddie Malone and Cortez Carter. The police report from the incident shows all five suspects were taken into custody in Mississippi and appear to have been sent to the Desoto County Jail.
Warrants for each of the suspects were issued a day later by the Shelby County Sheriff's Office.
Tucker was booked into the Shelby County jail on Thursday and charged with multiple counts of attempted first-degree murder, possession of a firearm during a dangerous felony, theft of property and intentionally evading arrest.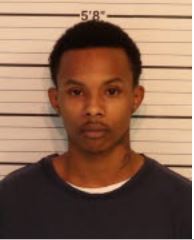 Carter faces the same charges but was transferred back to Memphis in October.
It's unclear when the other three will be back in Memphis.
According to authorities, the long list of charges stems from a drive-by shooting that reportedly took place back in September. One of the victims told police he was involved in a physical altercation with a man in the 4600 block of Faronia approximately an hour before the shooting. The suspects left the scene but then began driving past the site saying that "they were going to get them."
This happened multiple times before the suspects pulled guns on the victims and opened fire.
Officers said they happened to be patrolling the area, saw the drive-by shooting and were on the suspects' heels when they fled the scene. They ultimately led those officers all the way to Stateline Road and I-55 in Southaven, where they lost control and crashed.
All five suspects jumped out of the wreckage but were quickly caught by pursuing officers.