This is an archived article and the information in the article may be outdated. Please look at the time stamp on the story to see when it was last updated.
MEMPHIS, Tenn. — University of Memphis President David Rudd says work will begin in just a few days on several major construction projects that will change the face of the campus.
Construction begins Wednesday on a six-level parking garage on Southern, Rudd said. The university has said the parking structure will hold more than 1,100 vehicles.
A new cable-stayed land bridge will take students from the parking structure, over Southern Avenue and the railroad tracks, and into a new amphitheatre that will be built on the existing campus mall on the north side of the tracks.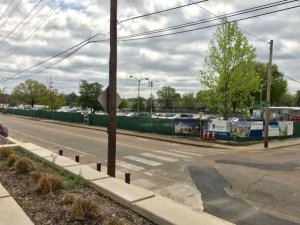 Rudd says that part of the project will begin May 1.
The train and traffic on Southern have caused problems for students trying to get from the Southern parking lots to the campus for decades.
The university has previously said work would begin last fall. Rudd did not mention an updated timetable for completion.
From campus update on several building projects underway.
Electrical and utility preparation for parking garage, land bridge, plaza & amphitheater complete
Foundation construction for parking garage begins April 18
New bridge landing and amphitheater work begins May 1

— Dr. M. David Rudd (@UofMemphisPres) April 16, 2018