This is an archived article and the information in the article may be outdated. Please look at the time stamp on the story to see when it was last updated.
DESOTO COUNTY, Miss. — A $1,000 reward is being offered for information leading to the arrest of a driver accused of killing a 19-year-old Olive Branch man in a hit and run only one day after buying a new motorcycle.
WREG has confirmed with multiple sources that Christopher Perry was traveling westbound on Highway 178 near Red Banks Road on June 27 when he was involved in an accident with a tractor-trailer.
Larry Holland, the head of the Desoto County Crime Stoppers, said the other driver pulled out in front of Perry's motorcycle, and the motorcycle hit the truck's back bumper. Holland said the truck driver stopped to look at the scene and then left without calling for help.
"I know these people personally," Holland said. "I've got to see firsthand what they're going through, and it's really upsetting, and I can only imagine because I have a child."
The victim was found sometime later by a passing motorist.
Authorities issued the two photos below, which show the tractor-trailer believed to be responsible.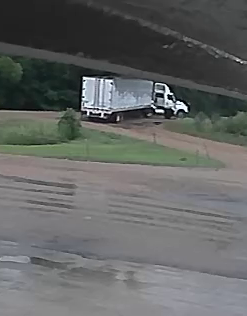 Anyone who knows anything anything that could help authorities solve this case should call Desoto County Crime Stoppers.
"If you do this, it keeps it from happening again," Holland said. "Get the information out there that lets people know what's going on in the county, to get these bad people off the streets, so it does not happen again."
WREG spoke briefly with the Perry family, who are trying to cope with the tragedy. Now, hopefully the community can help them find peace.
"To give his parents some closure and give his family some closure," Holland said. "He's already laid to rest, but it means a lot to them. They'll have the end of the story."