This is an archived article and the information in the article may be outdated. Please look at the time stamp on the story to see when it was last updated.
DICKSON COUNTY, Tenn. — More reward offers have been made for information leading to the arrest of a man sought in the fatal shooting of a Tennessee sheriff's deputy.
The Tennessee Bureau of Investigation says on Twitter that Dickson County Government added $10,000 and the Tennessee Fraternal Order of Police pitched in $1,000. Additionally, several law enforcement departments from across the nation decided to chip in $20,000, bringing the total to $46,000 as the search continues for shooting suspect Steven Joshua Wiggins.
Sgt. Daniel Baker of the Dickson County Sheriff's Department died Wednesday. His body was found in his patrol car several miles from where he stopped a suspicious car.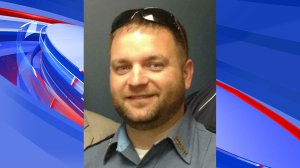 Sheriff Jeff Bledsoe with the department said he is even more heartbroken over what Baker endured after learning more about it from disturbing video footage. But he declined to discuss specifics, citing the ongoing investigation.
Bledsoe said part of what's disturbing is how Baker's police cruiser ended up 2 miles (more than 3 kilometers) away in a wooded area.
Alleged accomplice arrested
Court documents say Erika Castro-Miles was sitting in the car with the suspect when he pulled the trigger.
Local news outlets report that an affidavit filed Thursday in Dickson County says 38-year-old Erika Castro-Miles fled the shooting scene Wednesday and hid under a house after Baker was shot and killed.
The Tennessee Bureau of Investigation has said Castro-Miles faces first-degree murder after investigators said she had participated in the incident. She remains jailed.
The day before the shooting, police Wiggins was charged with hitting Castro-Miles and stealing her car.