This is an archived article and the information in the article may be outdated. Please look at the time stamp on the story to see when it was last updated.
MARIE, Ark. — You don't hear much in the community of Marie, except crops rustling in the breeze and an occasional car passing though.
The town has a population of less than 100. City Hall might have seen better days, but there's a proud population that's pleased to live in the peaceful place away from the hassle of city life.
"Oh, it a real nice and quiet town. I hardly ever see any cars pass here," Billy Panhorst said.
So when seven apartments in the tiny community are burglarized, locals like Panhorst, who says he lived here since the 1960s, find it unusual.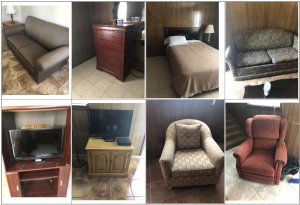 Pictures posted by the Mississippi County Sheriff's Office show what was stolen earlier this month — including couches, dressers, flat screen televisions, chairs and a bed.
One woman said the furnished apartments are used by workers at a nearby steel mill.
Several people in town said they weren't that shocked by the break-ins.
However Panhorst said crime is pretty much unheard of.
"It surprised the heck out of me. That's something new around here," he said.
The apartments aren't the only targets. The Sheriff's Office says furniture was also stolen from another home on a different street. That burglary took place about a week after the apartments were hit.
Deputies are asking anyone with information to help them out on the case.
You can contact the Sheriff's Department at (870)-658-2242, or Crime Stoppers at (844)-910-STOP.