This is an archived article and the information in the article may be outdated. Please look at the time stamp on the story to see when it was last updated.
BIRMINGHAM, Ala. – The remains of missing Alabama 3-year-old Kamille "Cupcake" McKinney have been found at a landfill, Birmingham Police Chief Patrick Smith confirmed at a news conference Tuesday evening.
Police are obtaining kidnapping and murder warrants for two persons of interest, 39-year-old Patrick Devone Stallworth and his girlfriend, 29-year-old Derick Irisha Brown.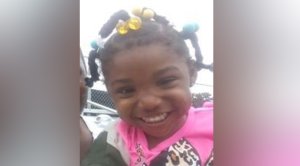 "I wish I had all of you gathered here with good news. I wish I could share a high five or some other celebratory salutation, but I cannot," said Birmingham Police Chief Patrick Smith. "I brought you here today because the Birmingham Police Dept., along with the FBI, have located the remains of a 3-year-old child who we believe to be Kamille 'Cupcake' McKinney."
Investigators found the remains inside of a dumpster at a Birmingham landfill, Smith said.
"We have been detaining all of the trash being collected from one area and we found this evening remains of a child," Smith said.
Kamille was last seen around 8:30 p.m. on the evening of Oct. 12 at a party in the Tom Brown Village housing community in Birmingham.
"More than ever, this family needs us all," MayorRandall Woodfin said. "So tonight, we mourn as one."