This is an archived article and the information in the article may be outdated. Please look at the time stamp on the story to see when it was last updated.
MEMPHIS, Tenn. --  A North Carolina woman is reaching out to thieves asking them to return a family keepsake that was stolen from her vehicle outside a Memphis bar.
Kristina Cocke said her Subaru was one two vehicles broken into early Sunday morning in the parking lot behind the P & H Cafe on Madison Avenue in Midtown.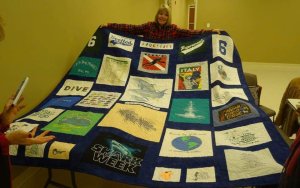 Monday, she was having the glass replaced in her back driver's side window.
"I went to my car and saw that one of my bags had been ripped open on the concrete below and my heart sank," said Kristina.
The thieves got away with her computer, a bag full of expensive beauty supplies, some yoga manuals and a hand-made quilt she said is priceless.
"It was made out of my father's T-shirts and he had probably over 300 T-shirts.  He was just the kind of dad who would collect T-shirts everywhere we would go, and a lot of memories were in that quilt," said Kristina.
Kristina was in town visiting relatives for a belated Christmas and said the quilt was a gift from a cousin in memory of her father who passed away over a year ago.
"She spent a month, over 40 hours a week, to make sure it was ready when I came into town.  A lot of love," said Kristina.
Along with the many commemorative T-shirts, there is a red diving flag on the back of the quilt and a label with her name on it.  She said the thieves may not have realized what they took, but she wants it back.
"When I was wrapped up in it it was like getting a dad hug again and not being able to have that I don't really know what I'm going to do. I'm really torn up about it, said Kristina.
She said it was the closest thing she had to her dad.
Kristina's family is offering a cash reward no questions asked for the return of the quilt.
If you know anything call (901) 438-4824.