This is an archived article and the information in the article may be outdated. Please look at the time stamp on the story to see when it was last updated.
LONDON — Windsor Castle's 700 year old St. George's Chapel has an equally long history of royal weddings. Most recently Prince Charles walked down the ancient aisle to get his marriage to Camilla Parker Bowles blessed in 2005.
On May 19, it will be Prince Harry and Meghan Markle's turn in a ceremony before an expected crowd of 800 friends and family. While the list is still private, royal correspondent Roya Nikkah said there's a good chance President Barrack Obama will be in attendance.
"We know they'll be about 800 people there. Probably the Obama's because they've become very close with Harry and his work with Invictus Charitable Foundation."
The ceremony itself will be officiated by the Archbishop of Canterbury before the couple is whisked away by carriage down the town's Main Street. The procession will then go down the "so called long walk" before arriving back at Windsor Castle.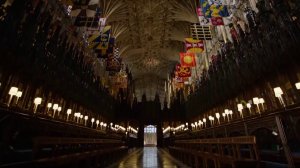 The ride will give thousands of spectators a chance to see the couple along the way.
"They want to be able to give the public a chance to share their celebrations with them, be part of the day," said Nikka. "That was very important to Harry and Meghan when they first got engaged, how would they do that."
It's a royal procession similar to the wedding of Queen Elizabeth's youngest son, Prince Edward and Sophie, countess of Wessex in 1999.
Carriage rides are a royal tradition. Prince William and Kate rode in one after their 2011 ceremony as did Prince Charles and Lady Diana before them.
But the royal couple won't be hanging on to all of the traditions. They're having their wedding on a Saturday instead of a Friday so more of the public can attend. There will also be no kiss on the balcony of Buckingham Palace, and there will be two receptions instead of one.