This is an archived article and the information in the article may be outdated. Please look at the time stamp on the story to see when it was last updated.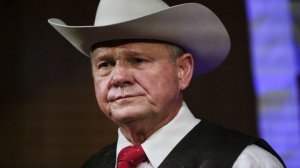 WASHINGTON — President Donald Trump is throwing his full support behind embattled Republican Roy Moore in the Alabama Senate race.
President Trump tweeted early Monday that "Democrats refusal to give even one vote for massive Tax Cuts is why we need Republican Roy Moore to win in Alabama."
Since the allegations of of sexual misconduct that happened decades ago, Moore has lost backing of many top Republicans.
President Trump has assailed Democratic candidate Doug Jones and has defended Moore against allegations of child molestation. But the White House has said he has no plans to make campaign appearances.
Mr. Trump tweeted: "We need his vote on stopping crime, illegal immigration, Border Wall, Military, Pro Life, V.A., Judges 2nd Amendment and more. No to Jones, a Pelosi/Schumer Puppet!"
Democrats refusal to give even one vote for massive Tax Cuts is why we need Republican Roy Moore to win in Alabama. We need his vote on stopping crime, illegal immigration, Border Wall, Military, Pro Life, V.A., Judges 2nd Amendment and more. No to Jones, a Pelosi/Schumer Puppet!

— Donald J. Trump (@realDonaldTrump) December 4, 2017
Putting Pelosi/Schumer Liberal Puppet Jones into office in Alabama would hurt our great Republican Agenda of low on taxes, tough on crime, strong on military and borders…& so much more. Look at your 401-k's since Election. Highest Stock Market EVER! Jobs are roaring back!

— Donald J. Trump (@realDonaldTrump) December 4, 2017