This is an archived article and the information in the article may be outdated. Please look at the time stamp on the story to see when it was last updated.
MEMPHIS, Tenn. — A convicted felon is charged with three counts of attempted first-degree murder after investigators say he shot through his girlfriend's apartment door, trying to kill her and her two young children.
Police say Keshon Ford, 26, showed up to his girlfriend's downtown apartment around 8 p.m. Thursday at the Second Street Flats, banging on the door and attempting to break in. When she wouldn't open the door, investigators say Ford fired two shots into the door. One of the bullets hit the woman, who was inside with her 8- and 4-year-old daughters.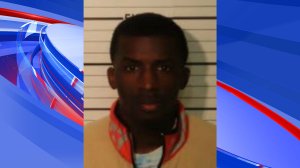 "Makes you wonder who you're dating. Who are you inviting into your home around your children? 'Cause it could've easily been those kids," Angela Malone, one of the victim's neighbors, said.
The complex is across from The Happy Mexican restaurant on Second Street.
"Never in a million years would I thought it would have been Second Street Flats," Malone said.
WREG dug into Ford's criminal background and found he did time in 2013 on domestic assault and aggravated assault charges for shooting at the mother of his child and her mom.
In February, he was sentenced to eight years in prison after pleading guilty to drug charges, but a judge suspended the sentence and put Ford in a community corrections program which is meant to save space for more violent criminals and save taxpayers money.
"And you already supposed to be in jail, and you out. Makes you wonder about the system," Malone said.
Ford is now charged with five felonies, including possession of a firearm during the commission of a felony and being a convicted felon in possession of a gun.
Hospital officials tell WREG his girlfriend was released sometime Thursday night. Police say she was shot in the pelvis and wrist, but is expected to recover.
Online court records don't show bond information for Ford. He will spend the weekend in jail awaiting a hearing Monday morning.