This is an archived article and the information in the article may be outdated. Please look at the time stamp on the story to see when it was last updated.
MEMPHIS, Tenn. — The search for Antoine Adams, an escaped murder suspect from Marshall County, has moved North to the Memphis area.
A broken window, overturned furniture and a hole in the ceiling show where a Raleigh family claims law enforcement came looking for a fugitive.
Adams escaped from jail in Marshall County, Miss. this weekend and is considered to be extremely dangerous.
Adams is accused of several murders in Memphis and Marshall County where investigators say he climbed out of a window in his cell early Sunday morning.
Police entered houses off Raleigh Egypt Road around 2 p.m. Monday, but Memphis Police spokesman Louis Brownlee said officers did not find Adams.
A Raleigh family says their home was ransacked as law enforcement searched for escaped inmate in Marshall Co. Live update at 4 @3onyourside pic.twitter.com/NezsRtZnoH

— Shay Arthur (@ShayA_WREG3) November 6, 2017
A 15-year-old Raleigh resident witnessed police coming into homes with dogs.
"They came in aggressive," said the 15-year-old. "They threw smoke bombs in there. I started covering my face up with my shirt."
The teen says he sat in the cruiser for about 40 minutes before he was released by officers without a word.
He thinks officers thought he was Adams. "They put guns to my face and told me to get down. They dragged me out the back door and took me to a police car."
One person was taken into custody on outstanding warrants during the search, but they were unrelated to Adams.
A woman who lives in one of the houses said officers told her they were looking for someone from Marshall County. An affidavit for a search warrant confirms that police were searching for Adams.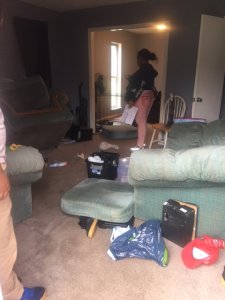 After police left, the house appeared ransacked inside, with broken windows outside. Brownlee says the family could file a complaint with the department about the damage.
He also said there had to have been some kind of credible reason law enforcement would go there — either it was a past known hangout, or perhaps Adams knew someone in the house.
The family in the house said they have only lived there for a month and they don't know Adams.
Monday afternoon WREG crews saw a broken window, overturned furniture and a hole in the ceiling where a Raleigh family claims law enforcement came looking for a fugitive.
Adams' former neighbor said officers were looking for him at a north Memphis duplex.
"When the police came it really frightened me because I didn't know what was going on," explained Terance Miles.
Now Miles is nervous Adams is still out there and just like the teen whose home was searched today, uneasy.
"That's scary. Especially in my neighborhood. I don't know what's gonna happen to me walking down the street."
Adams is linked to a homicide in Whitehaven and was the subject of the WREG Manhunt Monday series back in June.
The mother of Marquis Bell, who Adams is accused of killing, said her family is distraught over the news of his escape.
"We'll just have to wait and see what's going to happen. I don't know, I wish they would catch him right now."
Records show Adams has also been in trouble multiple time in a Shelby County Jail for his behavior to jailers.
Adams, 27, is charged with three murders — one in Marshall County and two in Memphis. He had been in the Marshall County Jail since August after being arrested on a warrant in Houston, Texas.
"He is a very, very dangerous individual," said Marshall County Sheriff Kenny Dickerson.
Dickerson said sometime between 1 and 1:30 a.m. Sunday, Adams stuffed pillows under the blankets on his bed to make it look like he was asleep, then managed to lift a glass panel from a window in his cell, squeeze through a small opening and jump out before crawling under the barbed-wire fence.