This is an archived article and the information in the article may be outdated. Please look at the time stamp on the story to see when it was last updated.
MEMPHIS, Tenn. — A suspect is in custody after allegedly dragging two police officers, leading police on a chase through South Memphis and crashing a car on I-240.
Police say things began around 1:45 p.m. Wednesday in the 1700 block of Shadowlawn Boulevard.
They were told the suspect might have overdosed in a vehicle.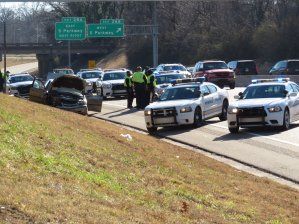 But when officers attempted to approach the vehicle, the driver drove off and dragged two officers, sending them to the hospital.
"I guess it was backing up then he come around, ran across that yard and was driving erratically down the street," said Walter James, who witnessed part of the incident.
Police say the suspect also struck a squad car while fleeing the scene.
"I don't know. These people now just crazy, doing stupid things. I don't understand it myself," said Albert Sanford.
The suspect then led police on a brief pursuit northbound on I-240 before crashing into a road sign just north of Trigg Avenue, causing the suspect's gold Chevy Impala to catch on fire.
"It looks real bad. It looks real bad," said onlooker Laquishia Peters.
"I think he thought he was in a movie or something," said Charles Smith.
The fire was extinguished and the suspect was arrested.
"I just wish it would stop 'cause I got sons growing up and I don't want them to be, you know, in the midst of none of this mess going on," said Peters.
Both injured officers were listed in non-critical condition at the hospital Wednesday afternoon.
BREAKING: Two officers taken to hospital after police say a driver took off, dragging the officers behind the vehicle. @3onyourside is on the scene. pic.twitter.com/N8rz5fYF1y

— Andrew Ellison (@aellison_wreg3) January 31, 2018
Preliminary info: The suspect also reportedly struck a squad car while attempting to flee. Offcs. followed the vehicle where the suspect struck a sign in the area of S. Parkway and I240 causing the suspect's vehicle to catch fire. The susp. is in custody. https://t.co/guoq0sSqnO

— Memphis Police Dept (@MEM_PoliceDept) January 31, 2018
@ 1:47 p.m., offcs made the scene of a possible overdose where an individual was inside of a veh.,1700 block of Shadowlawn. Offcs attempted to approach the veh. when the driver drove off dragging 2 officers. The susp. is in custody. Offcs were xported in non-critical condition.

— Memphis Police Dept (@MEM_PoliceDept) January 31, 2018