MEMPHIS, Tenn. — Memphis Police said a man was found dead on Interstate 55 Saturday morning, and a portion of the interstate was closed during the investigation.
Officers responded to I-55 and South Parkway West around 9:36 a.m. Police said officers found an unresponsive man lying on the road near the median.
The victim was identified Monday by police as Justin Isbell, 33.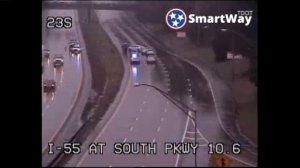 Officials pronounced the man dead on the scene.
Police shut down all lanes of southbound traffic on I-55 near South Parkway until about 2:15 p.m. One lane of northbound traffic was also shut down.
Police said investigation revealed the man was hit by a car. This is still an ongoing death investigation.