This is an archived article and the information in the article may be outdated. Please look at the time stamp on the story to see when it was last updated.
MEMPHIS, Tenn. —  A doctor was in the right place at the right time, stepping up to help a teen was shot in the head at a Memphis restaurant. 
The gun went off, striking one of them in the head. The 17-year-old was taken to the Regional Medical Center in critical condition.
The victim's friend, Sherman Lackland, 21, was arrested and charged with aggravated assault, reckless endangerment and unlawful possession of a weapon, police said.
It happened just across the street from Methodist University Hospital.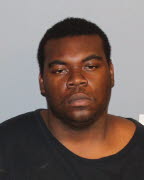 People were getting a bite to eat around 5:15 Thursday morning at E's Cafe, a 24-hour diner at Union Avenue and Claybrook Street.
When police say a 17-year-old boy was accidentally shot in the head, while he and his friends were playing with a gun.
"All young kids," said Ron Eanes, area manager at E's Cafe. "They were sitting there talking, and they started showing each other a gun and it accidentally went off."
That bullet easily could have hit and possibly killed any of the other customers or workers.
"Such stupidity. Anybody could get hurt," Eanes said.
But fortunately, no one else was hurt.
"People that don't know how to use guns don't need to have guns," the manager said.
"It starts at home," Andrew Chandler said. "Put the guns away. That's it, put the guns away."
The area manager for three of these cafes in Memphis tells WREG a doctor just happened to be inside eating when the crime happened, and jumped in to help.
"So maybe the kid will make it," he said.
Police have been here a few times before.
In May 2017, a couple was arrested after being caught on camera holding up employees.
They got away with about $300.
Then in July, a man robbed the Poplar Avenue restaurant at gunpoint.
"Welcome to Memphis. I've lived here my whole life – nothing's changed," Chandler said.
But the restaurant manager insists it's still a safe place to eat, with police patrolling the areas all the time.
"We've never really had an incident where somebody got hurt before – this is the first time," the manager said.
#UPDATE: Maj. WJ Prince with MPD tells me it was an accidental shooting.

A 17yo boy & his friend — who were hanging out here — were playing w/ a gun when it went off & he was shot in the head.

He's in critical condition. No name released yet. Everyone else is ok. @3onyourside pic.twitter.com/GVZOBkWUrA

— Nina Harrelson (@NinaHarrelsonTV) January 25, 2018
#BREAKING: MPD investigating shooting at E's Cafe in the Medical District. It happened about 45 min. ago.

Last May, a couple was arrested after police say they robbed this same place at gunpoint.

I'm on scene waiting for more info from MPD. @3onyourside pic.twitter.com/LUQ8VrkqjH

— Nina Harrelson (@NinaHarrelsonTV) January 25, 2018