This is an archived article and the information in the article may be outdated. Please look at the time stamp on the story to see when it was last updated.
MEMPHIS, Tenn. — Memphis Police have identified the woman killed following a five-car accident on I-40 near Sycamore, and the driver they say is responsible.
According to a police report, officers were called to the scene around 5 a.m. Saturday morning.
The driver of a 2008 Ford Fusion was traveling down the interstate when she came upon a broken down Honda Accord.
She reportedly was trying to go around the vehicle when she was hit by a 2006 Hyundai SGX being driven by 23-year-old Francis Barrios.
The two were waiting for police to arrive on the scene when a Chevrolet Tahoe struck Barrios' car and started a chain reaction.
The impact of the hit sent the Hyundai flying into the Ford Fusion, which then hit the broken down Accord.
The Accord then hit a 2015 Chevrolet Impala.
When first responders arrived on the scene, Barrios was pronounced dead.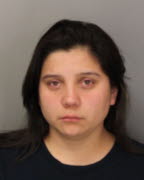 The driver of the Chevrolet Tahoe has been identified as Britney Herron.
She has been charged with reckless driving, vehicular homicide and financial responsibility.