This is an archived article and the information in the article may be outdated. Please look at the time stamp on the story to see when it was last updated.
WEST MEMPHIS, Tenn. — West Memphis Police have connected two suspects with four different Subway burglaries in three different Arkansas cities, a spokesman said Friday.
Capt. Joe Baker said ex-employees of one of the restaurants could be responsible. He said the burglars hit shops in West Memphis, Gosnell and Blytheville all in one morning this week. He also thought the two men might be responsible for another Subway burglary on West Broadway Avenue on Sept. 19.
Surveillance video at the Subway on Missouri Street in West Memphis showed one man shattering the glass of the front door around 6 a.m. That man ran inside while another stood watch, grabbed the cash register and ran. The burglars were gone in less than a minute.
"It's an ex-employee or someone who knows an ex-employee maybe because they seemed to have pretty good knowledge of where things were kept," said Capt. Joe Baker with West Memphis Police Department.
Marcus Moore works at theSubway on Missouri Street. He did not recognize the men.
"[Our owner] never expected someone to come through and break in. It happened like that. We gotta be more careful out here," he said.
But police said the two men didn't stop there.
"Working with the Facebook community is how we started gaining information on it reaching farther than West Memphis," Baker said.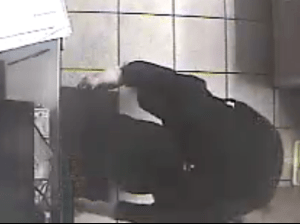 The burglars smashed in the front door clued them in to the fact that the incident could be connected to several other, Baker said.
"We got some information the Subway in Gosnell had been burglarized in much the same fashion. We reached out to Gosnell Police and obtained vehicle photos from surveillance footage and it does in fact appear to be the exact same vehicle," he said.
He displayed pictures of a gold or tan Chevrolet Trailblazer SUV that police think the men used to break in to Subways in Blytheville, Gosnell and West Memphis on Thursday between 4:30 and 6:30 a.m.
West Memphis Police said they also suspected the men were responsible for a burglary September 19 at another Subway on West Broadway.
They hope someone from the public could help them identify the men.
"One of the subjects has distinct clothing on that we'd ask the viewers to look at. I think someone might recognize the clothing," Baker said.
They're offering up to $2,000 for information that leads to an arrest. Call Crittenden County Crime Stoppers at 870-732-4444 if you can help.