This is an archived article and the information in the article may be outdated. Please look at the time stamp on the story to see when it was last updated.
MEMPHIS, Tenn. — A 12-year-old girl who was shot in a car outside a daycare in Frayser early Tuesday morning later died at Le Bonheur Children's Hospital, police said.
The incident happened in the Greenbriar Apartments in the 3100 block of Madewell.
The victim was identified in police records as Tateanna James. She was found inside her mother's car unresponsive with a gunshot wound.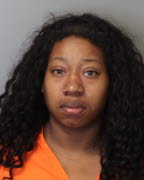 Her mother, Katrena Blackshire, 33, has been charged with charged with criminally negligent homicide and aggravated child neglect, and a 13-year-old boy who was in the car is charged with reckless homicide in the case.
Police say they found a loaded .380 semi-automatic handgun in the console of Blackshire's Buick Rendezvous.
"I was at the Robin Hood site when I got the call and came over. I just asked God to be a fence around her," Hattie Porter said.
Porter says she knows the family well.
Two people on the scene said a mother was dropping off two smaller children at a daycare center inside the apartment complex Tuesday. The 12-year-old girl was waiting in the car, they said.
That's when someone found an unsecured gun in the car. It appears the gun was accidentally fired, critically injuring the girl.
Residents say there was another sibling with her when it happened.
"He just said he was in the car eating some chips, and there was a loud bang," a resident said.
One young mother is terrified it happened in her neighborhood, and says this is why she doesn't like guns.
"They are definitely a dangerous thing not to be played with. People die everyday from accidents. It's just tragic," she said.
Ephie Johnson, with the Christian Center, says in their 40 year existence they have never had anything like this happen.
Johnson says they are praying for the family, "and trust that everyone will learn from this. We will continue to teach our families what it means to do the right thing."
The child was rushed to the hospital in extremely critical condition, but later died.
Police are reminding all parents to keep their guns locked and away from the hands of children.
Info still PRELIMINARY: the victim was inside of her parent's vehicle when the shooting occurred. It appears that a gun was left unsecured prior to the shooting.
REMINDER: KEEP YOUR GUNS SECURE. FREE GUN LOCKS ARE @ ALL POLICE PRECINCTS. https://t.co/qHMZTLRo25

— Memphis Police Dept (@MEM_PoliceDept) June 12, 2018