This is an archived article and the information in the article may be outdated. Please look at the time stamp on the story to see when it was last updated.
MEMPHIS, Tenn. -- Outside the Regional Medical Center, parked police cars were a constant presence all night and into the morning as law enforcement officers from all across the area made their way to the rooms of
two deputies injured in the line of duty
. Lee Hutchens, a K-9 Officer, was shot in the chest and put in the ICU. Patrol Sergeant Hunter Garrett was released Thursday morning after being shot in the foot.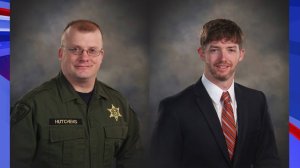 "This became the most important thing on our plate." State Representative Bill Kinkade made the three hour trek to Memphis from Jackson after hearing the news Wednesday evening. He said he and other lawmakers planned to stop by the hospital to show their support for the two deputies. "Our hearts go out to the deputies and their families - everyone affected." That includes the entire Mid-South law enforcement community, who Kinkade said, face similar threats everyday. He said there's a greater message to take away from this. "Understand that law enforcement is a very, very necessary and critical component of our community and that we need to do everything in our power to support them." Support for the two deputies also poured out through various social media sites like Twitter.