This is an archived article and the information in the article may be outdated. Please look at the time stamp on the story to see when it was last updated.
MEMPHIS, Tenn. — A 14-year-old girl in Memphis took heroin on her birthday and never woke up.
It's a tragic story heard far too often, as the opioid epidemic touches every part of the area.
"Our youngest victim was 14 years old. Our oldest victim as 68," said Memphis Lt. Terence Jackson. "That young victim when she woke up that day, she woke up being 13. She expired on her 14th birthday."
Jackson and his team are working to combat the opioid epidemic that is seeping into every neighborhood.
"There's not a particular ZIP code that has not been touched by this epidemic," he said.
Sharon Stephens also lost her son Cody last year to heroin.
"About the age of 17 Cody started using recreational drugs," she said. "Lost interest in baseball. Baseball was his thing. Very athletic. Very good-looking. Very well-known to everybody."
Stephens said this was just the beginning.
"I thought maybe he was dealing with depression or anxiety issues. Upcoming senior year and you know, what are we doing for college," she said. "I never associated it with drugs until I caught him with his friends."
Stephens said her son tried heroin when he was 21 years old. His roommate introduced him to the drug that would eventually send him to rehab several times over the next few years.
"It was the same vicious cycle. He couldn't find a job. He was behind on court costs and behind on paying child support," she said.
That, as well as his best friend overdosing, drove her son to his drug dealer's house for the final time.
"He got heroin. Went to the Circle K at Appling and 64. Went into that bathroom at 9:15 that morning and never came out of the bathroom. Someone found him on the floor dead at 11:15," she said. "Cody was the 59th death in Shelby county in 2017. On February the 8th."
Cody was just 28 years old when he died. He leaves behind a son.
WREG uncovered where the Memphis Fire Department has administered Narcan, a nasal spray used to reverse opioid epidemic.
The long list dated back to 2014. WREG broke down the numbers and saw ZIP codes including downtown, Midtown, Westwood, Raleigh, Frayser, South Memphis, President's Island and business districts in East Memphis.
We noticed they administered more and more Narcan in ZIP codes including 38104, 38109 and 38122.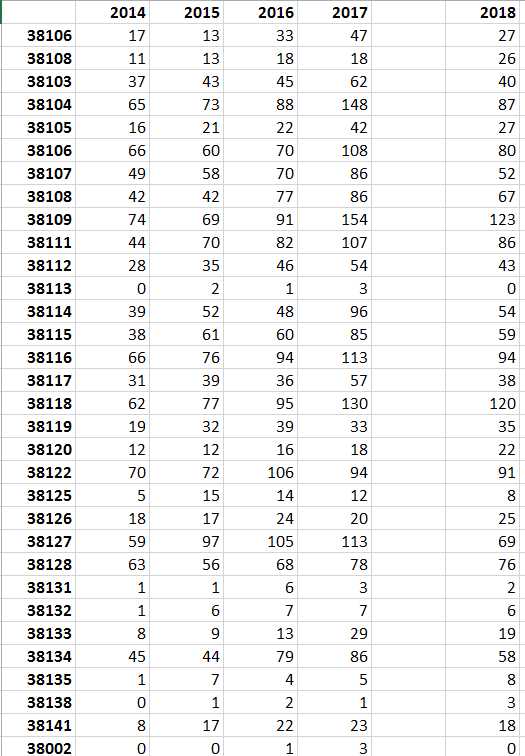 MFD will give Narcan to anyone they think may be overdosing.
Police said they will also administer it if they get to a scene first.
Their statistics show in 2017 there were 437 non-fatal overdoses and 94 fatal overdoses.
So far this year, 342 non-fatal overdoses and 67 fatal overdoses, which is a more than 20 percent decrease.
"On any given day we may respond to on the low-end one [overdose] call. On the high-end: 8, 9, 10," said Jackson.
MPD's patrol officers have now added Narcan to their tool belt. Right now, 1,212 officers are trained to carry and administer it.
"There are several avenues of help you can get into. Rehab facilities and prescription medications that will help ween you off your opioid addictions," said Tim Bogue, one of the detectives on Jackson's team.
Police said their main focus is getting victims help and increasing community awareness, while tracking down the source.
"If there is an increase in any particular zip code, the command staff at O.C.U. will get together and brainstorm where the manpower needs to be re-deployed," said Jackson.
As for Stephens, she said she misses her son every day.
"It's everywhere, and it`s a shame that it has gotten so bad," said Stephens. "If you notice your kid has a lack of interest in anything and you notice something just isn't right, get in their business and get in their face and get them help."