This is an archived article and the information in the article may be outdated. Please look at the time stamp on the story to see when it was last updated.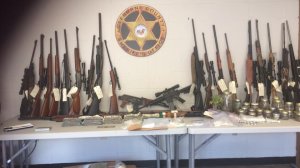 CLEBURNE COUNTY, Ark. — Drug and gun related charges have been filed after authorities raided a home reportedly dubbed the "one stop shop" for those looking for illegal items in Cleburne County, Arkansas.
On Monday, Cleburne County detectives finally executed a search warrant on the Floral Road  home after a year long investigation into 59-year-old Carl Watts. Watts had reportedly been suspected of participating in illegal activities,but what he was involved in was just recently brought to light for the public.
During the raid, detectives seized 27 guns, $66,000 in cash and several different illegal drugs, including cocaine, LSD, opioids, crystal meth and marijuana. They also found chemicals inside the home consistent with a meth lab.
Watts was also reportedly running a moonshine operation with a still and finished booze ready for sale.
He was taken into custody and given a $250,000 bond.