This is an archived article and the information in the article may be outdated. Please look at the time stamp on the story to see when it was last updated.
NEW HOPE, Pa. — The body of one of four missing Pennsylvania men has been found, Bucks County District Attorney Matthew Weintraub said.
Authorities identified the man as 19-year-old Dean Finocchiaro.
"We are not done yet. This is a homicide, make no mistake about it," Weintraub told reporters early Thursday in a news conference.
Finocchiaro and three other men between 19 and 22 years old went missing over several days last week within miles of each other.
He was last seen at about 6:30 p.m. on July 7.
Local and state police as well as the FBI had embarked on an "all hands on deck" search of a 90-acre property in Solebury Township, an area north of Philadelphia.
Cadaver dogs discovered Finocchiaro's body in what was described as a 12.5 foot deep common grave in that property, Weintraub said.
Additional human remains were found inside the grave, but were not yet identified, Weintraub said.
The property is owned by Antonio and Sandra DiNardo.
Their son, 20-year-old Cosmo DiNardo, was arrested Wednesday in suspicion of stealing and attempting to sell a car owned by one of the missing men.
Police found the car on a property owned by the DiNardos.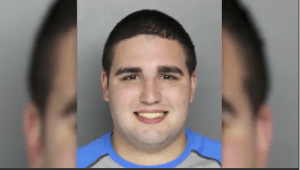 About a hundred residents and reporters gathered early Thursday at a shopping mall a few miles from the property waiting for updates about the missing men.
"We've been monitoring everything on Twitter. We wanted to be supportive and comforting for our community," said Wyatt McLeod who lives in Bucks County.
Susan Mangano and her teenage daughters said this quiet community in Pennsylvania has not seen anything like this before.
"We live here, we pass by, we saw the helicopters," Mangano said. "As a parent, it's been sickening to watch this. I have kids this age. It's just devastating."
Now, the search for the three other missing men continues.
Jimi Patrick, 19, of Newtown Township was last seen at 6 p.m. July 5 and was reported missing the next day after he had no contact with friends or family and didn't show up to work, police said.
Mark Sturgis, 22, of Pennsburg and Tom Meo, 21, of Plumstead Township were last seen together Friday night near the Doylestown area in Bucks County, CNN affiliate KYW-TV reported. Sturgis' father said the two were friends.
"We are going to bring each and everyone one of these lost boys home to their families," Weintraub said.