This is an archived article and the information in the article may be outdated. Please look at the time stamp on the story to see when it was last updated.
SOUTH KOREA — The Olympics in South Korea are bringing up memories for some American families, whose loved ones never returned from the Korean War.
An estimated 7,700 soldiers and Marines remain missing from the war that ended in 1953. Up until a year ago, that list included Private First Class Walter Piper who was reported Missing in Action in 1951.
Sixty years after he was captured in Korea, his remains arrived home in the U.S.
"None of it was that awe inspiring until you see that casket come off the plane and everyone stops on the tarmac. Everybody stops what they are doing. Everybody stands at attention."
Sherry Bumm is Piper's niece. She never met her uncle, but she was the first relative located when when his remains were positively identified.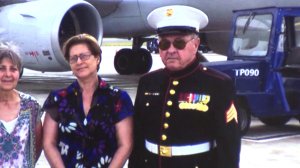 "My office phone rings and I pick it and there's woman on the phone, and she says to me "Is this Sherry Bumm?" I said yes. She said 'We've been looking for you.'"
It was former Marine Ralph Delaney who spearheaded the drive to bring Piper home. He grew up in the same New Jersey town as Piper.
"It means a lot to him. He is a war veteran. They're a tight band."
According to Army records, in February 1951 during the Battle of Hwunsong, Pfc. Piper went missing in the area. His regiment had been defending the Hwunsong bridge before fleeing to the south.
Kelly McKeague runs the government agency dedicated to finding missing service members, but he said the search will never end.
"We think this defines us as a nation. That here we are, as the U.S. government, still searching for, still finding, still recovering," he said.
For Piper's family the government's determination paid off.
"He needs to be home. He needs to be with his family. He needs to be someplace where people can honor him and respect him."
They now have a place to pay tribute to a man who made the ultimate sacrifice for his nation.