This is an archived article and the information in the article may be outdated. Please look at the time stamp on the story to see when it was last updated.
Memphis, Tenn.  -– WREG-TV News Channel 3, Tribune Broadcasting's Memphis station, is number one in November news ratings.  News Channel 3 came out on top in most head-to-head ratings races, including Monday through Friday morning, noon, 4 p.m., 4:30 p.m., 5 p.m., and 10 p.m. newscasts, and every weekend newscast.
News Director Bruce Moore said, "There was a lot going on, from coverage of a wild election night to the retirement of our wonderful anchor Claudia Barr.  I'm proud of the team for putting viewers first and working to tell the big, breaking, and important stories that matter to people all over this community."
WREG President and General Manager Ron Walter added, "November was a month of big news: the national and local elections…Memphians fighting crime in neighborhoods… Claudia's 'Big Announcements," as well as interesting cultural and historical events that uplifted our spirits.  Our team was second to no other, and viewers voted for us with their remotes and eyes, and we thank them.  We are looking forward to Stephanie Scurlock stepping into the 5 p.m., 6 p.m., and 10 p.m. newscasts and continuing the excellent News Channel 3 tradition of the finest spot and breaking news in the Memphis market."
Nielsen Media Research measures viewing monthly in the Memphis TV market.  These results are for the 28 day period from October 27 – November 23.  One rating point equals approximately 6,600 households, or roughly 17,233 people.
Highlights from the complete live+same-day viewing household numbers by time period:
WEEKDAY NEWS
WREG has the highest rated weekday newscast, weeknights at 10 p.m.
WREG ranks #1 in news for every morning half-hour from 4:30 a.m. – 7 a.m.
WREG ranks #1 in midday news, head-to-head against WMC at noon, and scores higher ratings than 11 a.m. newscasts on WHBQ and WATN.
WREG ranks #1 at 4, 4:30, 5, and 10 p.m.
FRIDAY/SPORTS
WREG airs the highest rated local sports show among all local media: Friday Sports Overtime with Glenn Carver beats other stations regularly scheduled newscasts.
WEEKEND NEWS
WREG is #1 on Saturday and Sunday as well…morning, evening, and night.
Here are the household ratings results: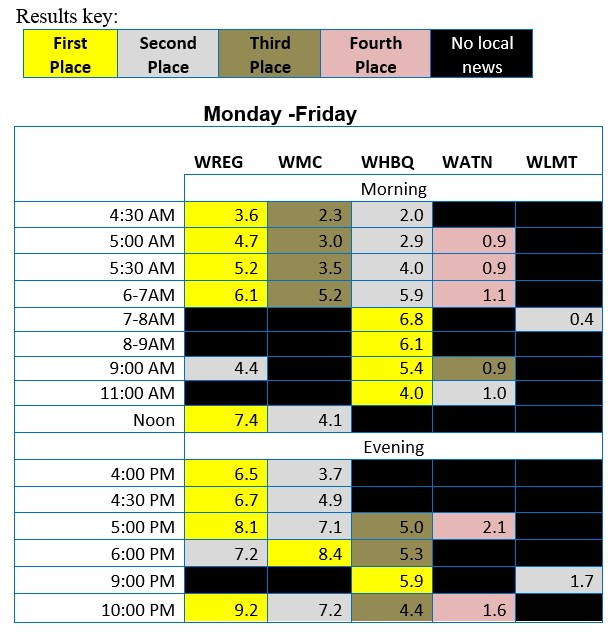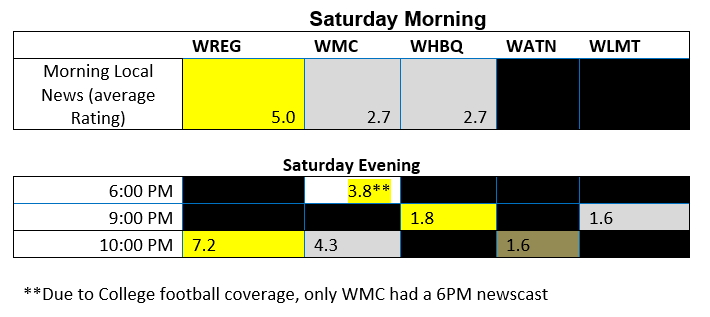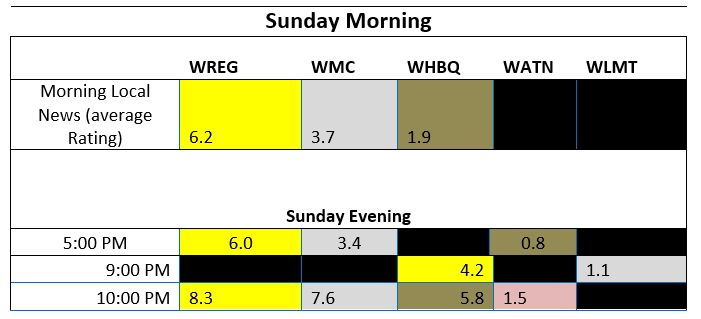 WREG-TV News Channel 3 is owned by Tribune Media Company (NYSE: TRCO), home to a diverse portfolio of television and digital properties driven by quality news, entertainment and sports programming. Tribune Media is comprised of Tribune Broadcasting's 42 owned or operated local television stations reaching more than 50 million households, national entertainment network WGN America, whose reach is approaching 80 million households, Tribune Studios, and Gracenote, one of the world's leading sources of video, music and sports metadata, powering electronic program guides in televisions, automobiles and mobile devices. Tribune Media also includes Chicago's WGN-AM and the national multicast networks Antenna TV and THIS TV. Additionally, the Company owns and manages a significant number of real estate properties across the U.S. and holds other strategic investments in media. For more information please visit www.tribunemedia.com.