This is an archived article and the information in the article may be outdated. Please look at the time stamp on the story to see when it was last updated.
NEW YORK — At Boris & Horton in New York City the seats and treats are not just for humans.
"I have coffee. Colonel has donuts and biscuits and stuff like that."
Co-owner Logan Mikhly told CBS News she followed strict rules and regulations by the health department to open New York's very first dog-friendly cafe.
"Are dogs ever allowed in here?"
"Absolutely not. No dogs at the coffee bar."
Food is prepared in an area completely separate from the playroom. This set up is similar to other cafés that have opened their doors to pets. Cat cafés originated in Asia and have been popping up across the United States, including in Utah, Texas and Virginia. Homeless cats live at the locations and wait to be adopted by visitors.
The first café for dogs opened in Los Angeles in 2016 with the same concept.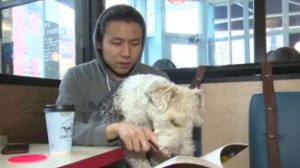 At Boris & Horton, the policy is B.Y.O.D. – bring your own dog. But you'll find plenty of people who are here without a pet, just to enjoy the atmosphere.
"I can meet up with my friends who have dogs and I can spend time with them, which I really enjoy, especially not having my own dog, I love to pet and cuddle with other dogs," said Rose Himmelmann.
The coffee shop is such a hit, the company plans to expand.
"We're looking at other locations throughout New York, Manhattan and Brooklyn," said co-founder Coppy Holzman.
For dogs and dog lovers everywhere, that's something to bark about.