This is an archived article and the information in the article may be outdated. Please look at the time stamp on the story to see when it was last updated.
CLARKSDALE, Miss. -- A man accused of shooting and killing an 18-year-old student athlete Wednesday evening has been charged.
Marcus Myles,18, was charged with one count of murder in the death of Dayeveon Hill in the 1000 block of King Street.
Authorities said his bond was set at $1 million.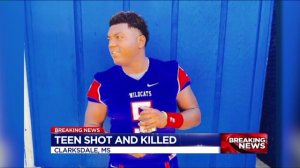 WREG was told Hill and Myles got into an argument around 4 p.m. near a local church and that's when the suspect reportedly pulled a gun.
Hill was rushed to the hospital but died from his injuries.
At this time, it's still unclear what the argument was about.
Family and friends said Hill was a good person who was on his way to big things, having just signed a football scholarship in order to attend college.
"He was always smiling and he always happy and he was the freshest dressed boy...Dayeveon was a good child. He wasn`t no trouble child," said Hill's aunt, Artrice Williams.
"It`s just like a dream. One day I want to wake up on it," added his grandmother, Elizabeth Williams.