This is an archived article and the information in the article may be outdated. Please look at the time stamp on the story to see when it was last updated.
MANFORD, Ok. — A Green Country mom is warning other parents after the DVD player in her car exploded, nearly burning her 3-year-old son.
Over the weekend, Lisa Tunnell said she was in the passenger seat, her boyfriend Zac was driving with the two kids in the back when Zac felt sparks hit the back of his head. Then they heard what sounded like a small explosion.
"It just went 'poof' and flames shot to the ceiling and obviously ran down the back."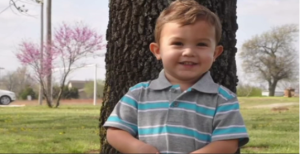 The portable DVD player hanging in front of her 3-year-old son Kyzer went up in flames just inches away from the toddler.
"I turned around, I couldn't see Kaiser, all I could see was flames; I was screaming, 'Pull over, pull over.'"
They immediately stopped the car, grabbed the kids and threw the burning device to the ground to stomp out the flames. Lisa said somehow no one was hurt.
"All I can say, it was the saving grace of God because the amount of flames that were coming up, I don't know how it didn't burn him."
Lisa contacted the company, Sylvania. They asked her to send in the damaged parts along with some paperwork. And then, they said, they'll start an investigation."
The car damages will cost more than $3,000 to fix.