This is an archived article and the information in the article may be outdated. Please look at the time stamp on the story to see when it was last updated.
MEMPHIS, Tenn. -- The city is preparing for thousands of people that will be in Memphis next week for events honoring the legacy of Dr. Martin Luther King Junior.
Wednesday will be a day of remembrance and commemorative ceremony.
It will include a wreath laying, tributes, performances and a symbolic moment of reflection at 6:01 p.m. when Dr. King was shot on the balcony of the Lorraine Motel fifty years ago.
The National Civil Rights Museum said you need to prepare for crowds, road closures and parking.
"There's no RSVP. We don't know who's coming besides the ones who have told us. 15,000 were here ten years ago, and we are going to get another 15 or more here this time," said Faith Morris with the museum.
Morris said preparations have been underway for the past year. They're working with MPD, state and federal law enforcement.
Security will be tight. No weapons are allowed. You will be screened and could be searched.
"Any guests will be subject to a random search at discretion," said Morris.
Expect road closures between midnight Tuesday to midnight Thursday.
Road closures include:
-2nd Street/GE Patterson
-West on GE Patterson to Main Street
-North on Main Street to Talbot Street
-East on Talbot to 2nd Street
-South on 2nd Street returning to GE Patterson
[googlemaps https://www.google.com/maps/d/embed?mid=1GbQN0-ujGHJOlF7gtRjAAkMzBascreFp&w=640&h=480]
Park in the FedEx Forum's Toyota Parking Garage. It's free. It's available on a first come, first serve basis.
Memphis Area Transit Authority buses will offer free shuttles that will continuously transport guest throughout the day to and from the FedEx Forum.
The shuttle will run between 7:30 a.m. to 8:15 p.m. The shuttle will provide service for access to the museum at the entrances located at Main Street and Vance and South 2nd and East Butler.
"People are starting to come now, because they want to come close to this moment," said Morris.
Civil rights activists, politicians and people form across the world are expected to attend.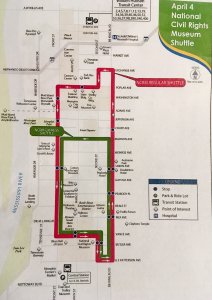 The commemoration events start at 9:30 a.m. and go until 3:30 p.m.
The commemorative ceremony from the balcony of the Lorraine Motel starts at 3:30p.m. until 6:15 p.m.