This is an archived article and the information in the article may be outdated. Please look at the time stamp on the story to see when it was last updated.
MEMPHIS, Tenn. — Data from the National Weather Service showed the Mississippi River is less than one foot from the flood stage as of Wednesday night.
The river, which stood at 33.52 feet as of 7 p.m., will reach minor flood stage when it gets to 34 feet.
That's still quite a ways from the historic flooding recorded in 2011, when the river reached 48 feet and engulfed Riverside Drive. But it has risen more than eight feet since last Wednesday.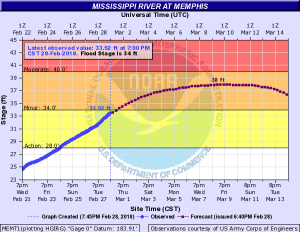 Even miles from the Mississippi River, the impact of days of rain is already being felt.
G. C. Woods is eyeing the murky pool that's creeping closer and closer to his home on Netherwood Avenue in South Memphis.
"It'll come in the house," he said.
Woods has lived there for more than 60 years, but said the flooding has only been a problem in recent years.
"Every time we get the rain like this, this is what happens right here," Woods said.
When WREG contacted the city on Woods' behalf, a spokeswoman said they sent a crew to inspect the problem.
WREG was later told that a pipe was blocked on property owned by a railroad company, but that the city was working with the company to get it resolved.
In East Memphis, Lynn Shelby was walking along the Wolf River Greenway Trail when he noticed a portion of the parking lot was underwater.
"I have noticed that the water right through here has really come up a lot during the last few days with all this rain that we've had," Shelby said.
The portion of the trail that runs through Germantown was closed Wednesday because of the high water, but Shelby said he was still able to walk the East Memphis portion.
"The trails really didn't have that much water on them. I guess they've got them drained pretty well and elevated where you can still walk around here and not have big, you know, something that you couldn't get around," he said.