This is an archived article and the information in the article may be outdated. Please look at the time stamp on the story to see when it was last updated.
JACKSON, MISS. — A Mississippi Republican lawmaker who called for the lynching of politicians who approve of the removal of Confederate monuments needs to "quickly clear up his remarks," the state GOP chairman said Monday.
On Saturday, Karl Oliver posted to Facebook saying, "The destruction of these monuments, erected in the loving memory of our family and fellow Southern Americans, is both heinous and horrific."
"If the, and I use this term extremely loosely, "leadership" of Louisiana wishes to, in a Nazi-ish fashion, burn books or destroy historical monuments of OUR HISTORY, they should be LYNCHED!" he added.
Monday morning, Oliver removed the post from his Facebook page.
He also issued an apology The Clarion Ledger reported.
"I, first and foremost, wish to extend this apology for any embarrassment I have caused to both my colleagues and fellow Mississippians," Oliver said in a written response. "In an effort to express my passion for preserving all historical monuments, I acknowledge the word 'lynched' was wrong. I am very sorry. It is in no way, ever, an appropriate term. I deeply regret that I chose this word, and I do not condone the actions I referenced, nor do I believe them in my heart. I freely admit my choice of words was horribly wrong, and I humbly ask your forgiveness."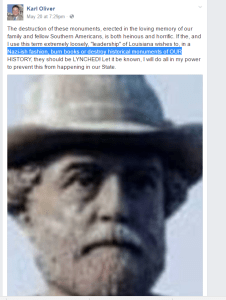 The comments stemmed from the recent removal of several Confederate monuments in the city of New Orleans following years of heated public debate and legal fights.
The statues will be put in storage while the city looks for a suitable place to display them, such as a museum.
The city secured private funding to remove the monuments, the mayor's office has said.
But backlash has been building against removing Confederate monuments.
The Louisiana House passed a bill last Monday that would prohibit local governments from removing war memorials, including those from the Civil War.
House Bill 71 allows local governments to take down a memorial only if voters approve the action at "an election held for that purpose." The proposal passed in a 65-31 vote and heads to the state's Senate.
Oliver's comments Saturday received more than 1,000 comments and has been shared almost 500 times.
House Speaker Philip Gunn took to Facebook on Monday condemning Oliver's comments.
"They do not reflect the views of the Republican party, the leadership of the House of Representatives or the House as a whole. Using the word "lynched" is inappropriate and offensive. We call on Rep. Oliver to apologize," he posted.
Representative Jeramey Anderson also posted to social media saying, "I am offended and outraged that a public official in 2017 would, with an obvious conviction and clear conscience, call for and promote one of the most cruel, viscous, and wicked acts in American history."
I strongly condemn the statement by my colleague Rep. Karl Oliver—it's hateful, offensive and ignorant. In 2017, it's a shame. #msleg pic.twitter.com/JoDItSl0kW

— Rep. Jeramey Anderson (@jerameyanderson) May 22, 2017
Mississippi GOP chairman Joe Nosef condemned the remarks when reached for comment Monday.
"Rep. (Karl) Oliver's comments were offensive, do not represent the Mississippi Republican Party and have no place in our public discourse," Nosef said in a statement. "I hope he will quickly clear up his remarks to make his point without these inappropriate comments."
Messages left by CNN with Oliver's office Monday were not immediately returned.
In response, several users posted photos of black Americans being lynched in Oliver's Facebook thread, while others called for him to leave office.
The state's Democratic Party didn't have an immediate response. But David McDowell, the head of the Mississippi Democratic Trust, an organization that helps elect Democrats to office, said Oliver's "very treacherous and threatening language" was "shocking."
"Mississippi's history of lynchings is a long and sordid one, a history we should often reflect upon and never take lightly," he said. "Words like these aren't to be thrown around. Representative Oliver should be ashamed of himself; he knows better."