This is an archived article and the information in the article may be outdated. Please look at the time stamp on the story to see when it was last updated.
MEMPHIS, Tenn. — An admitted Memphis rapist who's been on the run for months is finally in police custody.
Kelvin Montgomery was supposed to be sitting in prison for torturing and raping a woman in East Memphis in 2014, but he never showed up to start his sentence.
Wednesday night, he was finally found on a boat in Orange Beach, Alabama with a woman reported missing from Arkansas.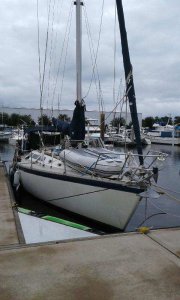 "I was scared to death," said Rafael Kieffer.
Kieffer knew Montgomery as Mike. He lived on the boat next to him with his girlfriend.
Wednesday night she came to him for help claiming Montgomery beat and choke her.
Kieffer called her sister, and found out the battered woman was Shasta Naumann from Eureka Springs, Arkansas.
Her family and police had been looking for her for a whole year.
She was last seen with Montgomery.
"I got on the internet and saw all his mugs," said Kieffer.
He called authorities in Orange Beach and in Shelby County. Minutes later, he was arrested.
It's unclear what new charges Montgomery will face in addition to the 12-year sentence he should be serving for kidnapping, rape and attempted murder.
In 2014, Montgomery took a woman to this East Memphis home on Willow.
The victim said he drugged her and then tortured her for hours until she played dead and escaped when he fell asleep.
Montgomery reached a plea deal in August 2016.
The judge let him out on bond, and he never showed up to start his sentence.
Family members of both women told WREG they're relieved Montgomery is locked up, but feel like the judicial system failed them.
Authorities in Alabama said Naumann is physically okay, and she'll remain in protective custody until her family from Arkansas picks her up.
It's unclear when Montgomery will be brought back to Shelby County.