This is an archived article and the information in the article may be outdated. Please look at the time stamp on the story to see when it was last updated.
MILAN, Tenn. — The cold-case disappearance of a teenager has haunted a Mid-South community for 22 years.
WREG News Channel 3 was the first to tell you police are now naming a suspect in Cayce McDaniel's case.
For the first time in more than a decade, her mother's speaking out.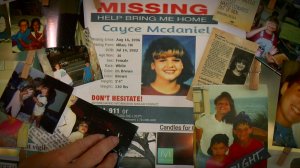 "She was just a good person," said her mother Cindy McDaniel.
Cindy says Cayce was the perfect daughter — One everyone liked.
"She was one that wanted to help others and you know, good in school. Good heart. She loved going to church."
Wondering what happened to her hasn't been easy.
"It's just Hell because you just don't know."
But Cindy says she thinks she does know who did it. The same man authorities publicly named as a suspect: Finis Hill, also known as Pete Hill.
Cindy says she pieced it together within a year of Cayce's disappearance and told police.
"They had this story 22 years ago and they didn't do anything about it."
She says Cayce was at a 'back-to-school' church party the night she disappeared.
A chaperone dropped her off and watched her go inside.
That same night, Cindy and her boyfriend went to a gathering at their friend's house in the nearby town of Humboldt.
"When we pulled up at this house, we saw tail lights leaving and it was Pete."
She says Hill's wife later told police he came home that night.
It wasn't until months later, Cindy says she found out that wasn't true.
"I just was sick, physically sick, and I said, 'He did it. He did it.'"
Her theory is Hill thought her boyfriend was coming to the gathering alone and left to go to Cindy's where he thought she'd be.
She says she had turned him down for sex multiple times and threatened to tell her boyfriend.
She thinks he was drunk and wanted revenge.
"He gets all mad, you know, 'Nobody turns Pete Hill down.' Just got irate about it."
But only Cayce was home — and Cindy says she knew Hill well enough to let him in the house.
"He was suit and tie. Clean cut. You know, new car and was always polite and nice."
On the surface, that is. Hill has a violent history detailing rape and assault charges.
"He's a bad enough guy to have done it and that's my belief and has been since I found out he didn't go home."
She says she told authorities that as well, which contradicts what past reports say.
"Them saying you haven't been cooperative, that's not true?" asked WREG's Bridget Chapman.
"No. That's not true," she answered.
Early on, suspicion was placed on Cindy.
She failed a lie detector test and people questioned her actions, like waiting ten hours to report her daughter missing.
"It was just like a nightmare because they just wouldn't listen."
She says she didn't report Cayce missing until the next day because Cayce often slept at her best friend's house.
So that's what she assumed happened when she came home that night, noting there were no signs of forced entry.
"It's always reported the back door was wide open. It wasn't wide open. Sometimes if you open the front door, the back door would unlatch, so it was maybe cracked or unlatched, but it wasn't wide open."
They didn't have a phone at their house, so she called Cayce's friend the next day when she went to pick up her son at his grandpa's.
She said she was ready to lecture Cayce for not leaving a note like she's supposed to.
"I said, 'Just put her on the phone; she's not in that much trouble but just put her on the phone.' And she said, 'She's not here,' and I knew it immediately it was bad."
That's when she says she went back home and noticed cookies and milk left out by Cayce.
Her family friend drove her around to places she could be and they filed a police report.
At first, she says she did everything detectives asked her to, like take a polygraph test and all media requests.
But soon, she says it started backfiring.
"You were misquoted or taken out of context and then they started printing anybody that wanted to say something, I guess their 15 minutes. I don't know why people do it, but they do it. I just got so tired of that I just quit."
Investigators have admitted they had tunnel vision for a while, trying to tie a different man to the case.
"It was like they were trying to make pieces to their puzzle fit. They weren't trying to get to the truth of anything."
As years passed, other cases took priority.
Then in 2003, Hill was arrested for trying to kidnap a woman at gunpoint and sentenced to 15 years.
"I could breathe a little bit because I knew he wasn't out there hurting anybody."
During that time, Cindy stayed quiet, causing many to speculate and come up with theories. One was she sold Cayce for a drug debt.
"I get people can say what they want to and stuff but you know, just to let everybody just rant and rave and comment and none of it's true, and these were friends of mine from before high school."
She says the worst was when people said she didn't care.
"When people say you forgot about your child, you have to get really tough skin, but you know, it still bothers you. But she's never been forgotten, she'll never be forgotten."
When Hill was released from prison this January, Cindy said a new set of investigators contacted her and listened to her story.
A Milan city employee befriended Hill with a fake social media account in the hopes of getting information about Cayce.
An affidavit shows disturbing remarks he made to her about beating and raping women.
He was then arrested after traveling to Mississippi with the intention of having sex with a 15-year-old.
"He's a predator. He's going to be back in a cage where he belongs."
Cindy says all she wants at this point is for Cayce's remains to be found.
"If you could say something to Pete Hill, what would you say?" asked WREG's Bridget Chapman.
"You couldn't air it," she answered.
She says if Cayce were here today, she'd be a physical therapist for the NFL.
Her picture stands above the fireplace as a daily reminder of the potential she had.
"I want everybody to know how much I appreciate everything. Their prayers and thoughts and you know, everybody's been understanding with my son because he just got put on the back burner."
We may never truly know what happened to the 14-year-old, but plenty of people are fighting to get answers.
We reached out to Milan police to see if they'd heard this story from Cindy before.
The chief said it's hard to track since it's been more than 20 years, but he did say she's cooperating with investigators.
Cindy said she mainly wants to thank those investigators who are listening to her.