This is an archived article and the information in the article may be outdated. Please look at the time stamp on the story to see when it was last updated.
MEMPHIS, Tenn. —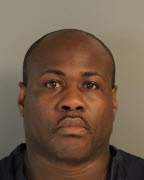 A Mid-South pastor is behind bars accused of raping a family member.
Damond Roker was arrested  Friday and booked into the Shelby County Jail on charges of aggravated assault, aggravated rape, and tampering with evidence among other things.
WREG has learned he is the pastor of Redemptive Life Church in Memphis.
Roker beat the victim before forcibly raping her, Memphis Police said.
The 39-year-old allegedly cleaned up the scene and the victim after the initial rape.
Four hours later he attacked her again.
WREG was told the victim was taken to the Memphis Sexual Assault Resource Center where she was treated for injuries to her face, ears and forearms.
A sexual assault kit was also performed.
Roker's bond was set at $300,000.
He is scheduled to be in court on Tuesday.