This is an archived article and the information in the article may be outdated. Please look at the time stamp on the story to see when it was last updated.
MEMPHIS, Tenn. — The Memphis Police Department says it is investigating after a video surfaced that shows an MPD officer repeatedly hitting a man who was being detained on a downtown street.
Video sent to WREG shows several officers surrounding a handcuffed man outside The Peabody at Union and Second. One of the officers throws the man to the pavement and strikes him with his hand at least 15 times.
The man can be heard moaning before the officer says, "Spit on me again, you sorry son of a b**** ."
WARNING: GRAPHIC LANGUAGE AND CONTENT
In a statement, Memphis Police said the incident occurred Thursday and involved two Memphis Police officers and two Downtown security guards who were arresting a man. The statement confirmed that an MPD officer hit the suspect several times with his fist.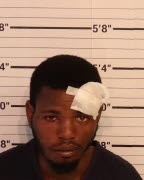 The man in the video has been identified as Yasin Bashir, 28. Bashir was in the Shelby County Jail on Friday night, charged with aggressive panhandling and assault.
According to a police report, pedestrians had complained that Bashir was blocking their path while panhandling and was also seen urinating on Main Street. As he was being escorted off Main Street, Bashir allegedly charged the officer.
Officers wrestled him to the ground, but when Bashir stood up, police say he "harked and spat" in the officer's face.
The report says the officer then used "hard, empty hands" to bring Bashir back down to the ground.
Although the man has not filed a complaint with the police department, Police Director Michael Rallings has ordered and administrative investigation of the incident by MPD's Inspectional Services Bureau.
The incident was also captured on body camera video, MPD said. The bureau will review that video and any others taken around the area.
Rallings promised corrective action if the investigation finds department policy was violated.
"In incidents such as this, I will not wait for a complainant to come forward," Rallings said in a statement. "Officers of the Memphis Police Department are expected to remain professional and work toward building the trust of our citizens. If it is found that this officer violated policy, corrective actions will be taken."
The Downtown Memphis Commission did not return a request for comment about their officers' involvement.
Bashir's family, contacted late Friday, saw the video for the first time when a reporter showed it to them. His sister says Bashir rarely speaks, and she doesn't believe he would've been panhandling.