This is an archived article and the information in the article may be outdated. Please look at the time stamp on the story to see when it was last updated.
MEMPHIS, Tenn. -- A man was shot to death while sitting in his car in a driveway in South Memphis early Wednesday morning.
Police were called to a house in the 200 block of West Essex around 7:21 a.m. by the victim's girlfriend.
Neighbors told WREG's Melissa Moon they heard up to 15 shots, came outside and saw the man's black Infiniti riddled with bullets.  They believe the man was already dead.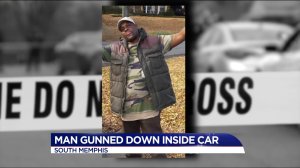 "I heard like 10-15 gunshots and looked outside and I saw the car shot up and they were saying someone in black who did it ran off," said Jasmine Rankin.
Loved ones identified the victim as Marlon Elliott, 35.  They said he did not live in the neighborhood and was in the driveway of his girlfriend's home when he was shot.
Neighbors said Elliott came to the house every morning to pick up his girlfriend's children and drive them to school.
If you know anything you are urged to call CrimeStoppers at (901) 528-CASH.