This is an archived article and the information in the article may be outdated. Please look at the time stamp on the story to see when it was last updated.
MEMPHIS, Tenn. — A family says they left Africa and moved to Memphis to chase the American Dream, but they've been met with nothing but heartbreak since their arrival.
"I lost my son. I lost my son," the victim's mother, Kadijah Sy, said.
She can't believe the person she relied on for everything is gone.
"He took care of me," she said.
Djbril Sy, or Jibby as family called him, took over as head of the house hold after his father was attacked with a baseball bat in 2012 outside a Whitehaven convenience store.
The beating left Djbril's father with brain damage. All of this took place shortly after the family moved to Memphis from West Africa.
"He was a good, nice boy and my best friend," Kadijah Sy said.
According to the police report, Djbril got a message on the OfferUp app from someone asking if he wanted to buy a cell phone for $300.
"He said, 'I'm about to go meet up with them.' I said, 'Okay. Be safe," Djbril's best friend, Mamoudou Basse, said.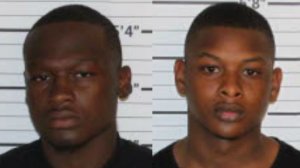 He went to an apartment complex on Outland to finish the deal. According to police, as soon as he pulled up, someone shot through the window of his car.
"You could have taken the money and went on about your business," the victim's sister, Mariem Sy, said.
Witnesses say the shooters kept firing towards Djbril as he tried to run away.
"He left this earth without a goodbye." Mariem Sy said.
Erik Robinson, Marquavious Smith and a teenage girl admitted to robbing Djbril, but his family says their arrests aren't enough.
"The criminal justice system has failed the African community so many times. We just hope we will get his justice," brother Amir Sy said.
Djbril was able to remain alive long enough to give police a description of the trio who robbed him.
All three suspects are charged with first degree murder.