This is an archived article and the information in the article may be outdated. Please look at the time stamp on the story to see when it was last updated.
MEMPHIS, Tenn.– A father is confused and upset after he learned of the arrest of an accused serial carjacker that he thought was already in jail.
The man tells us he too is one of Ray Burns' victims who were robbed at gunpoint.
Burns, arrested on Christmas day, is accused of carjacking two people has a long history of similar cases.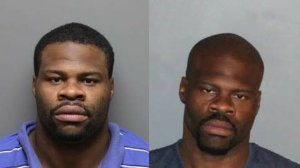 The man we talked to said he was targeted in September and was told Burns was arrested in October.
He's wondering why a man with such a checkered past was ever allowed out of jail.
Related: Suspect captured after chase, multiple carjackings, brief kidnapping
Rewind back to September, and the man who doesn't feel comfortable being identified said he was face to face with him outside a home in Parkway Village.
"He shows me his gun, he didn't point it at me but he showed it to me, and he just wanted everything I had. He wanted cash, the money, whatever I had," the man said.
All of this happened in front of his two young children. He said about a month later he heard from police.
"They said they had him. and he had so many charges on him that his case might go federal court," the man said. "They said he's a career criminal and he's locked up. The detective actually told me to tell my children that he was locked up and that he wasn't getting out any time soon."
The victim says he was looking at his Facebook news feed on Christmas when he saw Burns' picture once again.
"I'm thinking well no, you got this guy, and I didn't understand. You feel kind of betrayed. Because you feel like justice was served and then somehow justice was unserved," the main said.
WREG asked the District Attorney's Office what could've happened.
A spokesperson said it appears Burns' October cases were dismissed by a judge for lack of prosecution in November.
Related: Background of carjacking suspect reveals criminal past 
Which can mean a victim or police officer did not show up for the preliminary hearing.
However the case can still go to the grand jury for an indictment, as is often the case.
He was being held on two bonds totaling $325,000 but those go away when his cases are dismissed.
Now that Burns is once again in custody, this victim thinks he needs to stay in jail, no exceptions.
"Nobody should ever have to worry about this particular guy again."
Burns is  currently in prison custody. He was set to have an arraignment Wednesday but a judge reset his arraignment for Thursday, Dec. 28.