This is an archived article and the information in the article may be outdated. Please look at the time stamp on the story to see when it was last updated.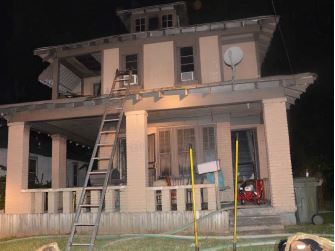 MEMPHIS, Tenn. — A man died in a fire in the 900 block of Faxon Avenue early Sunday morning.
Firefighters responded to the North Memphis rooming house at about 1 a.m. Sunday.
They saw fire coming from the house and starting working to put it out.
Memphis Fire said they brought the fire under control a little under an hour later.
The fire started in the bedroom area, but the cause is under investigation, Memphis Fire said.
While searching the home, firefighters found the victim's body near the first-floor bedroom.
They tried to revive him, but he was pronounced dead.
His cause of death is pending.
Memphis Fire is not releasing the identity of the victim until next of kin is notified.
The house and its contents suffered about $100,000 of damage from smoke, fire and water, Memphis Fire said.
The Red Cross provided assistance for three adults, Memphis Fire said.
Fire officials discovered the house didn't have a working smoke alarm.