This is an archived article and the information in the article may be outdated. Please look at the time stamp on the story to see when it was last updated.
MEMPHIS, Tenn. — A man was rushed to the hospital in critical condition after he was stabbed in North Memphis on Wednesday, Memphis Police said.
It happened in the 2200 block of Eldridge Avenue around 6 a.m.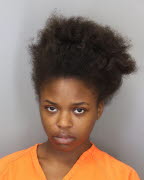 Authorities said a female has been detained in what appears to be a domestic situation.
Police later identified Gabrielle Ford, 18, as the woman arrested. Ford has been charged with aggravated assault.
Neighbors say there's a street code to remain silent when violence makes an unexpected visit. Still, one man says he's willing to break that silence if it means the cycle of violence may also be broken.
"To tell you the truth there's so much stuff happening. I just say it's another day, but I do get mad at the same time," he said.
Police say the victim is improving and should be OK.