This is an archived article and the information in the article may be outdated. Please look at the time stamp on the story to see when it was last updated.
SHELBY COUNTY, Tenn. — A second man has been arrested after an Eads homeowner shot at two suspects who were allegedly breaking into his vehicle, hitting one.
Timothy Keen, 30, was charged with attempted second-degree murder, possession of a firearm during a dangerous felony, theft of property and burglary of a motor vehicle. Keen was the person shot by the homeowner.
The sheriff's office announced late Friday that Kyle Walton had also been arrested in connection with the crime. Walton had gotten away during the incident and was the subject of a search.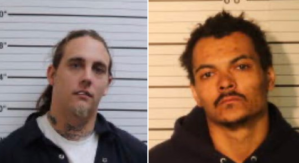 The homeowner told Shelby County deputies that he noticed a vehicle pull into his driveway during the early morning hours Thursday. When he went outside to look, the driver initially drove away, but then returned a few minutes later.
The homeowner said he grabbed his AR-15 and went outside to confront the subjects. That's when he found a person sitting in his car and another standing next to what proved to be a stolen vehicle.
The subject standing outside the stolen vehicle reportedly pulled out a gun when confronted and opened fire on the homeowner.
That man said he returned fire, striking one of the suspects. The other got away and authorities are still looking for him.
Around that time, deputies said they located Keen at a nearby home, suffering from multiple gunshot wounds.
Keen later told deputies that he went to the home with a man named Kyle to visit family. He then reportedly heard someone yelling and gunfire erupted.
He was later charged and booked into the Shelby County Jail.
We went to Keen's listed address. No one came to the door, but neighbors are familiar with him.
It's not a good kind of familiar. Neighbor James Valentine says he heard his share of issues coming from Keen's place.
" I see him out here in the yard always clowning around. People coming over getting into with him, he getting into it with people," Valentine said.