This is an archived article and the information in the article may be outdated. Please look at the time stamp on the story to see when it was last updated.
MEMPHIS, Tenn. — A man accused of stealing hundreds of pieces of mail from an apartment complex has been arrested, and inspectors say the suspect is a resident of the complex.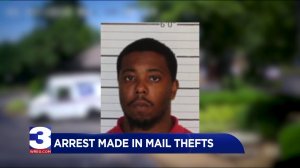 Anthony Stewart, 25, is charged with burglary of a motor vehicle and tampering with government records.
Surveillance video released last Friday shows Stewart approaching a mail truck at the Stonebridge Crossing Apartments, brazenly taking trays of mail not once but twice from the vehicle while the mail carrier was just feet away delivering mail to tenant's boxes.
"This is pretty significant because normally they don't steal mail directly from the carrier's vehicle," Postal Inspector Branden Guffey said.
Guffey said more than 400 pieces of stolen mail were recovered behind the complex.
People who live at the complex said they were surprised by the crime.
One of the apartment employees told investigators that Stewart, who matched the description of the suspect in the video, dropped off a rent check under the name of his grandmother, with whom he lives in the complex.
Just days after the video was released, a Shelby County Crime Stoppers tip came in and the U.S. Postal inspector's office received information too, Stewart was their guy.