This is an archived article and the information in the article may be outdated. Please look at the time stamp on the story to see when it was last updated.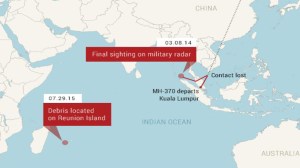 BEIJING — Investigators said they had a "high degree of certainty" Thursday that aircraft wreckage found on an island in the western Indian Ocean is a wing component unique to a Boeing 777 airplane, the same model as Malaysia Airlines Flight 370, which mysteriously vanished more than a year ago with 239 people on board.
CBS News correspondent Seth Doane reports that authorities are calling this find a "significant development," but they caution it's still too early to know if the debris is a piece of MH370.
The plane debris that washed ashore on the French island of La Reunion is believed to be a part of a wing called a flaperon, Doane reports.
Its dimensions are consistent with a Boeing 777 aircraft.
Malaysian Prime Minister Najib Razak said in a statement that it will be sent by French authorities to Toulouse to be examined by the French accident investigation agency, BEA.
However, an official at the BEA told CBS News later Thursday that the agency was unaware of any plans to transport the debris found in La Renunion to France.
A BEA press officer told CBS News the agency had not sent any staff to the remote island, and had no plans to do so.
The press officer said Malaysian and Australian authorities remained in charge of the overall investigation, but that French law enforcement personnel were handling the wreckage on the island for the time being.
In light of the press officers comment, it remained unclear where the apparent flaperon discovered on La Reunion would end up, or when it would be examined by experts involved in the investigation into the disappeared aircraft.
Thursday morning, Australia's Deputy Prime Minister Warren Truss called the find a "major lead."
"There is a number on the parts… that is not a serial number or a registration number, but it's possible that it could be a maintenance number, and that might help an early investigation," Truss said.
He also said investigators will examine barnacles on the wreckage to determine if they are consistent with something that has been floating in the ocean for around 500 days, Doane reports.
The debris was discovered approximately 2,600 miles west of where searchers had been scouring the sea floor of the southern Indian Ocean in a 46,000 square mile search area off the coast of Australia.
Australian authorities, who have led the search, say models suggest the wreckage could have floated that far, carried by ocean currents, and that this find would likely not change the current search area.
"When you find a part like this, historically what we have found is that you will find other parts in the area," CBS News transport safety expert Mark Rosenker said.
There were also reports Thursday of a damaged suitcase found washed ashore on La Reunion.
A local news website published photos of a man holding what was purportedly a tattered bag recovered from a beach near the wreckage.
Rosenker, a former chairman of the NTSB, told CBS News that investigators would now be pouring over the recovered part, looking for clues.
"Was this metal torn? Was it crumpled? Had it been ripped in some shape or form? Is it pop marked? Does it have any type of char on it which would indicate a fire? All of that is going to be very important," Rosenker said.
293 passengers and crew were aboard the flight from Kuala Lumpur to Beijing, and victims' families have endured false leads before.
"We've been through this many times," said K.S. Narendran, whose wife was one of the passengers. "I think it has really not helped us to either keep expectations high or to, in a sense, hope for some quick answers."
Doane reports that a group of Chinese victims' families have posted a letter online saying they are awaiting official confirmation of whether the piece of debris is indeed a part of missing flight MH370.
They say what matters the most to them, however, is where their family members are.
"We have had many false alarms before," Prime Minister Razak said. "But for the sake of the families who have lost loved ones and suffered such heartbreaking uncertainty, I pray that we will find out the truth so that they may have closure and peace."