This is an archived article and the information in the article may be outdated. Please look at the time stamp on the story to see when it was last updated.
You may dream of an easy life after winning the lottery, but winning might not be all that it's cracked up to be. Some lottery winners have met an untimely demise.
Here are some winners whose life became worse off after the big win:
Arthur Neal, Jr.
86-year-old grandfather Arthur Neal Jr. was found murdered in the basement of a Detroit home in February 2015. Family told media outlets that he had won $20,000 in the lottery shortly before his disappearance, but officials couldn't confirm the win and said a $20,000 ticket had never been cashed. Prosecutors say 20-year-old Quanzell Hood killed Neal in an attempt to steal the cash — Hood pleaded guilty and was sentenced to 23-50 years in prison in May of 2015.
Urooj Khan
Urooj Khan of Illinois died July 20, 2012, one day after collecting the lump sum option on a $1 million win. A medical examiner initially found that the 46-year-old Khan died of natural causes, but another official asked for a deeper investigation, which revealed the lottery winner was fatally poisoned with cyanide.
Abraham Shakespeare
Florida Lottery-winner and murder victim Abraham Shakespeare was a 43-year-old truck driver who was killed by Dorice "Dee Dee" Moore. Moore was sentenced to mandatory life without parole by a judge who called her "cold, calculating and cruel."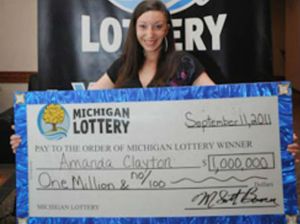 Amanda Clayton
Amanda Clayton, a Michigan lottery winner, was arrested in April 2012 for allegedly collecting food stamps and public health insurance despite winning a $735,000 jackpot. Clayton, who was 25 at the time, was charged with fraud and was sentenced to nine months probation. In October 2012 Clayton was found dead from what appeared to be a drug overdose.
Doris Murray
Doris Murray, who won $5 million in the Georgia Lottery in April 2007, was found stabbed to death in her home a year later.
Doris Siegel
Doris Siegel of Brooksville, Florida, was accused in March 2010 of conning friends, neighbors and a church pastor out of more than $1 million after she claimed to have won the lottery in Holland. Siegel, who was 78 at the time, asked victims to put up their own money in return for a piece of the winnings. In October 2010, she was sentenced to 18 months in prison and five years of probation as a part of a plea deal.
Freddie Young
Freddie Young, a Michigan man who became a millionaire after a lottery win in February 2011, had his fortune frozen by a judge after becoming a murder suspect four months later. Young was charged in June 2011 with first-degree premeditated murder in the May 2011 shooting death of his daughter's landlord. He was convicted and sentenced in 2012 to 25-30 years in prison.
Mirland Wilson
In 2012, a group of 14 McDonald's employees sued their co-worker, Mirland Wilson, a woman who claimed to have Maryland's winning Mega Millions ticket in March and later said she lost it. The group claimed Wilson defrauded the Maryland Lottery to avoid sharing the winnings with them, despite lottery officials saying she never won in the first place.
Americo Lopes
In March 2012, a New Jersey jury unanimously decided that Americo Lopes had cheated his coworkers out of their share of a $38.5 Mega Millions jackpot lottery pool. Lopes claimed he had won the jackpot on a personal ticket but the panel rejected that theory. The jackpot was ultimately distributed among the five men who were in the lottery pool with Lopes.