This is an archived article and the information in the article may be outdated. Please look at the time stamp on the story to see when it was last updated.
NEW ORLEANS, La. — A New Orleans zoo has determined how a jaguar escaped from its enclosure, and then killed several other animals over the weekend.
Zookeepers at the Audubon Zoo said the three-year-old male jaguar, named Valerio,bit through the stainless steel fence on the roof of his enclosure. Valerio then attacked and killed five alpacas, two foxes and one emu. Another fox was also attacked, but survived.
The animal will not be euthanized, they added, saying he was just acting on his natural instincts.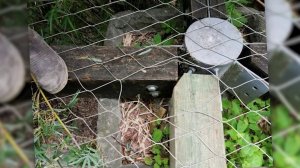 Kyle Burks, vice president and managing director for the zoo, said at a news conference that Valerio was sedated by a team of veterinarians and the animal was returned and secured in his area. No humans were injured.
The zoo was closed Saturday.
"We care for these animals every day," Burks said. "We closed the zoo today to help our team mourn."
"We take this situation very seriously and we're working to investigate everything that happened so we could prevent anything like this from happening again " Burks said.