This is an archived article and the information in the article may be outdated. Please look at the time stamp on the story to see when it was last updated.
BEVERLY HILLS, Calif. -- Netflix released a survey Monday showing that 46 percent of couples are "cheating" on their significant other.
Netflix cheating that is.
Netflix describes cheating as the act of skipping ahead when you've decided to watch a show together.
It was first discovered in a survey the streaming service performed in 2013. It is now common behavior around the world.
"This behavior only continues to grow with 60% of consumers saying they'd cheat more if they knew they'd get away with it. And once you cheat, you can't stop: 81% of cheaters are repeat offenders and 44% have cheated 3+ times," according to Netflix.
According to the survey, 80 percent of those who cheat don't plan on it.
Two-thirds of the cheaters said, "The shows are just so good we can't stop bingeing."
The top shows to watch out for are Narcos, Stranger Things, Orange is The New Black, House of Cards and Black Mirror.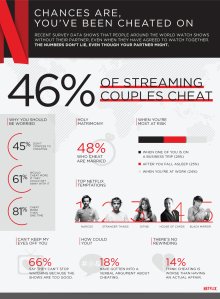 If you're one to cheat, the survey showed that 46 percent don't think it's "all that bad," but it helps to know which kind you are.
The Sleepless Cheater 
A person who will cheat after their partner goes to bed. They constitute 25 percent of those surveyed.
The Sorry-Not-Sorry Cheater
Those who feel no guilt for cheating. They make up 32 percent of those surveyed.
Forty-five percent of cheaters will actually never confess.
The Serial Cheater
Someone who just can't help themselves from watching more. They make up 30 percent of people. Many of them will hide in another room.
Three out of 10 cheaters will apologize.
The Long-Distance Cheater
The ones who will cheat when their partner is away. They make up 19 percent of people.
Forty percent will get into a verbal fight over them skipping ahead.
The Loyal Stream
Those 56 percent of couples who actually stick with it. Thirty-six percent of the people say it's "better than a gift."