This is an archived article and the information in the article may be outdated. Please look at the time stamp on the story to see when it was last updated.
SOUTHAVEN, Miss. — The two deputies recovering after being shot in Desoto County Wednesday night have been identified.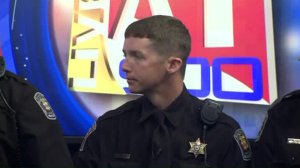 Sgt. Hunter Garrett was shot in the foot. and was released early Thursday morning.
Garrett was released early Thursday morning from the hospital.
We've learned Garrett has been with the DCSO for six years.
He was featured on WREG last August when we highlighted what he and several other deputies did for a homeless man.
K-9 officer Brandon Lee Hutchens was shot in the chest.
Hutchens has a collapsed lung and is in the ICU.
We've learned Hutchens has been with the force for eight years.
The shootings happened after a confrontation with a suspect believed to be involved in a string of robberies.
The suspect is dead.
Sheriff Bill Rasco said the suspect, who is unidentified, was involved in three violent robberies back to back in Horn Lake and Southaven.
He then went to the Kroger near I-55 and Stateline.
He was sitting in the parking lot when the deputies spotted him around 9 p.m.
The suspect reportedly jumped out of the car and took off running behind Heartland Church.
That's where he was involved in a shootout with police.