This is an archived article and the information in the article may be outdated. Please look at the time stamp on the story to see when it was last updated.
MEMPHIS, Tenn. — A volleyball game turned violent Thursday night after a match at Manassas High School, according to Memphis police.
Police say eight people were assaulted after the game and the attackers were the other team.
Sinora Coffey said her 16-year-old daughter was walking out of Manassas High School with her Hamilton High School teammates. She said they were looking for their bus when the Manassas players approached and began taunting them.
"Someone yells out, 'Turn around,' so as the girls team turn around to look, a young lady spat on my daughter," said Coffey.
Soon, Coffey said the Hamilton girls were outnumbered and surrounded by girls and boys from Manassas, throwing punches and pulling their hair.
Coffey said her daughter went to the hospital with a minor concussion, but insisted on returning to school Friday in order to take a test.
"They struck the coaches, they struck the girls. A lot of the girls have knots on their heads, they have bruises," said Coffey.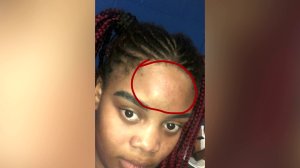 Police said that when a coach tried to break up the fight, she was punched in the forehead.
"They were practically backed against a wall fighting for their lives. There was a wall behind them with children around them," said Coffey.
Coffey suspects the attack was planned based on social media posts from before the game.
Shelby County Schools said the matter is still under investigation and any students found to be involved will face strict disciplinary consequences.