This is an archived article and the information in the article may be outdated. Please look at the time stamp on the story to see when it was last updated.
MEMPHIS, Tenn. — About 200 students at Hamilton High School walked out in protest Wednesday after the school's principal was removed following a grade discrepancy investigation.
Police were on hand as students gathered on the sidewalk holding signs.
Principal Monekea Smith was placed on leave without pay and was recommended for removal over the holiday break after investigators found evidence that grades had been changed at the school.
Student representative Danyell McAdams said the students just wanted their questions answered on why Smith was removed, and they would continue to protest until they got an answer. "I've been here since I was a freshman; this is the third principal I've seen since I've been here."
Shelby County Schools communications chief Natalia Powers said Powers said letters were sent home to parents, and parents were called, letting them know about the situation.
"Our goal right now is to bring normalcy to the school," Powers said Wednesday.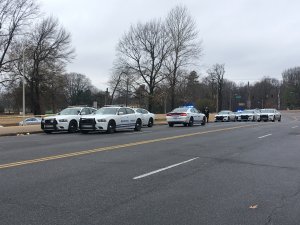 Grade floors allow each school to determine what a passing grade is, but schools are not supposed to change grades from failing to passing. Employees who do can be punished. Powers said.
Students moved off the sidewalk and inside to the school's auditorium for a meeting with Superintendent Dorsey Hopson around 10:30.
In response to the protest, the Shelby County School Board said "We are aware of the peaceful student protest that occurred at Hamilton High School. We understand and appreciate the emotional nature of the situation and we respect rights of all the stakeholders involved. We will continue to work with the administration in a thoughtful and transparent way to support the students and Hamilton."