This is an archived article and the information in the article may be outdated. Please look at the time stamp on the story to see when it was last updated.
MEMPHIS, Tenn. — A mother and grandmother say they experienced a nightmare after their baby fell several feet into a hidden hole in a Memphis city park.
"The hole was so deep he disappeared," Gabrielle Adams said. "All I heard was him crying; that's when my mom came and went through there with her head first."
Adams says she was holding her son Mon'Terrio's hand leaving Jesse Turner Park and headed to the car, when he slipped from her grip and dropped into the hole — a hole that she says was invisible and completely uncovered just after 7 p.m. Wednesday.
The hole is about 5-foot-4 — a long fall for a 1 year old.
"He won't even go to sleep. He's traumatized; last night we turned the lights off, he was just constantly crying, crying, crying and shaking," said Morris Claiborne, Mon'Terrio's father.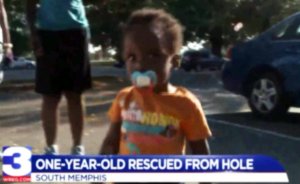 Chantel Covington says the hole was deep and dark. As the boy's mom knelt down screaming in shock, she took action.
"I just jumped out my car and dived through it."
The grandmother says her only thought was saving little Mon'Terrio.
"I'm holding her legs so she won't slip through. She was trying to breathe, but he was still through there."
Covington says the hole curves inside and she had to maneuver down several feet just to lay a finger on her grandson.
"I couldn't breathe, all I could say was 'Lord take me and not my grandchild.'"
Holding back tears, she remembers the moment she finally got a grip on Mon'Terrio.
"I grabbed his shirt then I grabbed his arm then I started praying, and I saw a light and he came on through."
Covington says she fainted as soon as her grandson was safe. The sound of her grandson crying let her know the little boy was alright.
Now she wants to make sure no one else falls victim to the pit in the park.
"They need to seal it up."