This is an archived article and the information in the article may be outdated. Please look at the time stamp on the story to see when it was last updated.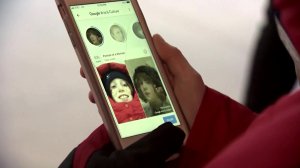 NEW YORK — Art and apps aren't always mentioned in the same sentence, but it's happening more and more thanks to Google's Arts & Culture app.
Launched in 2016, the app lets people do things like search for art by color or time period, zoom into details of their favorite artworks, and take virtual tours of famous museums and cultural sites.
The app recently began trending once more after social media users began sharing the results of a new feature that allows you to see if a portrait that looks a lot like you is already painted and on display in a museum.
Users take a selfie and the app uses computer vision-technology to compare your features to those in thousands of pieces of art and produce a match.
For some the results are spot on, but in other cases not so much.
Some users have complained they were matched with artwork of different gender or age, or in some cases not at all.
"It seems kind of limited," said Columbia University student Mason Murray.
"I did not think they were specifically looking like me but Google didn't think so either. I didn't get higher than 44 percent," added Sara Loya.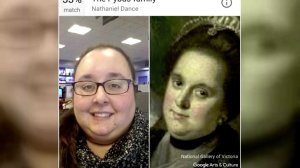 Cynthia Shaver, an art appraiser in New York, took a look at the results. At first glance they didn't seem impressive then she looked a little closer.
"There are your cheekbones so the composite doesn't look like you no but the individual features absolutely."
The Google Arts & Culture app is getting mixed reviews about the matches it produces but most people seem to think it's a real success at inspiring interest in artwork.
A representative for Google said the face-matching feature is experimental so it's not clear how long it will be available.