This is an archived article and the information in the article may be outdated. Please look at the time stamp on the story to see when it was last updated.
MEMPHIS, Tenn. — A French artist recently put the finishing touches on 20 major artworks on buildings around Memphis.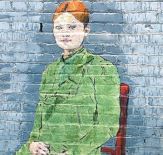 Artist Julien De Casabianca's latest project is called "Outings." He has just finished in Memphis and has returned to Paris.
The Memphis Brooks Museum of Art is featuring the French artist, who has put up thousands of installations around the world.
The museum said works from the Brooks Museum of Art collection have been printed on paper and pasted to walls with wheatpaste. Twenty characters are installed at various locations around town, and three are large-scale — the largest is six stories.
The installations may last a few days or a few weeks.
The artist said he is asking the viewer to experience the artwork in a new way.